This year's restaurant week began with a trip to the Green Zebra (I'm not sure if it actually requires the definite article, but I like the idea of there actually being a physical, green quadruped). It is supposed to be pretty cool, a place that focuses mainly on grains and produce (with the occasional foray into meatdom).
On our first go we walked past the place because they didn't have a sign posted outside (which was of a piece with the rest of their ambiance), but on the second try we managed to get into the door. We waited for a few minutes as the hostess ignored us and did something or another about three feet away, which was kind of irritating.
Post-hostess, the service was great. The inside was very cool--everything was themed without being gimmicky. The walls were painted various shades of green, with moss paintings hung on the wall. Lights under a series of ferns created plant-patterned shadows on the ceiling, which I thought was a cool effect.
After all the buildup, the food was a little disappointing. We went for the restaurant pre-fixe menu and shared all of the dishes (with the exception of the root vegetable pot pie). The bread(kind of) was
popcorn dusted with unevenly with cocoa powder and some sort of spice
. It was weird.
After that, I started with the Zingerman's Burrata with crushed almond pesto, red quinoa, and a black pepper/crème fraîche cracker. This dish reminded me almost of sushi, with the mild, cold cheese standing in place of the fish. To contrast there was a crunch of almonds and quinoa (my first time having quinoa) and a cracker.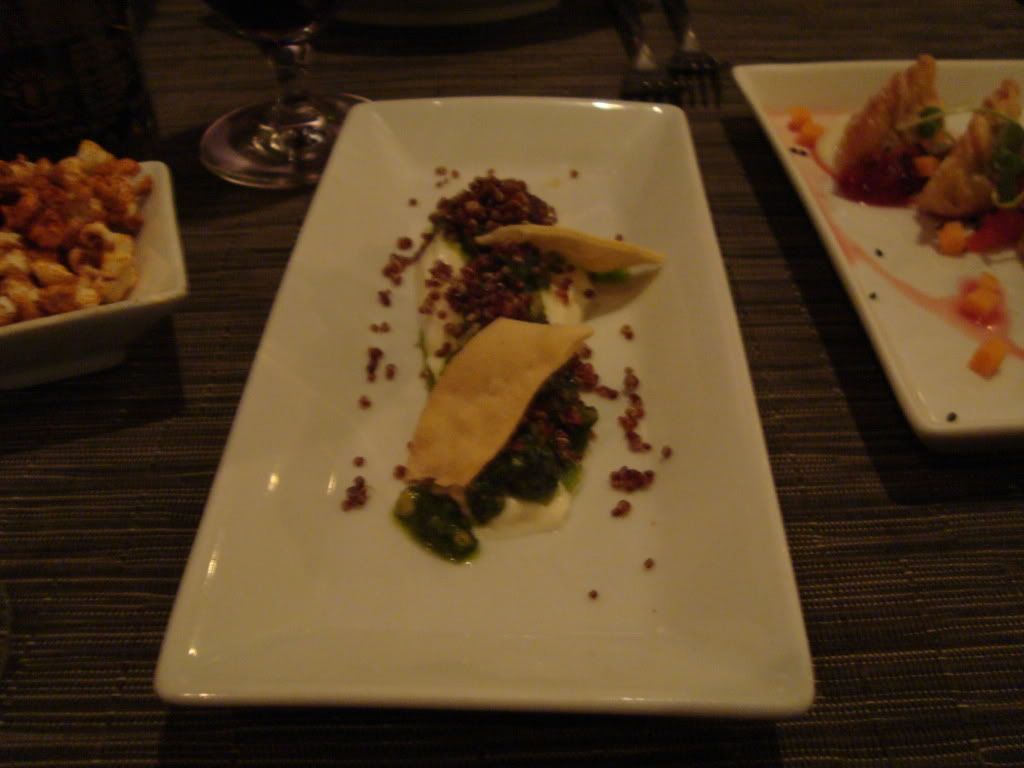 Suddenly realized these pictures make the portions look bigger than they were. I should've included a reference. Seriously, they were small.

The other option for the first course was the crispy sweet potato dumplings served with salsify purée, blood orange, and toasted black sesame. Every little element on the plate had it's own purpose, and all went together beautifully, but there was just a little something missing.

Maybe it was the teeny tiny portions they served. Understandable, and plenty of food for a female of my size. Matt, who has about a foot on me, was less happy. Regardless, if you couldn't scoop enough of small puddle of puree onto your oh-so-chic skinny fork, it detracted significantly from the dish.

The second course consisted of a carrot-coconut soup (probably my favorite dish of the evening) and celery root and potato croquettes. The soup was served with what I thought was ginger, and what Matt thought was pineapple, and what turned out to be Jicama and a cilantro foam. It was pleasantly spicy and has sweet notes from the coconut and carrot to balance it out. I didn't get any of the cilantro.

A note on foam: at this point it time, foam on any dish may seem to many people to be overly pretentious, but when it was first introduced by Ferran Adria in the nineties, it was a unique and innovative way to introduce flavor to a dish without weighing it down. GZ's food is vegetarian, however, and doesn't include a lot of fats or oils, so what was the point of the foam? It would have been better to just have some sort of sauce or cream, something that would have made the meal a little more substantial overall.

The croquettes I also thought were very good. They were served with smoked black walnuts, picked onions, and a pea tendril salad. The walnuts added a nice smokiness to the dish (understandably), the salad a nice crunch, and the pickled onions an awesomeness. Seriously, they were great. They were pickled in what I believe what red wine vinegar and were wonderfully acidic and crunchy. My only complaint was there were maybe three or four small slivers of them.

The third course consisted of sage spaetzle and sunchoke risotto. The risotto was very good, just creamy and buttery and delicious. The spaetzle didn't have enough sage at all and suffered from the same issue as a lot of the other dishes--what few samples of the flavor elements(roasted cauliflower, crispy kale, almonds, brown butter) there were were hard to get on your skinny fork at once.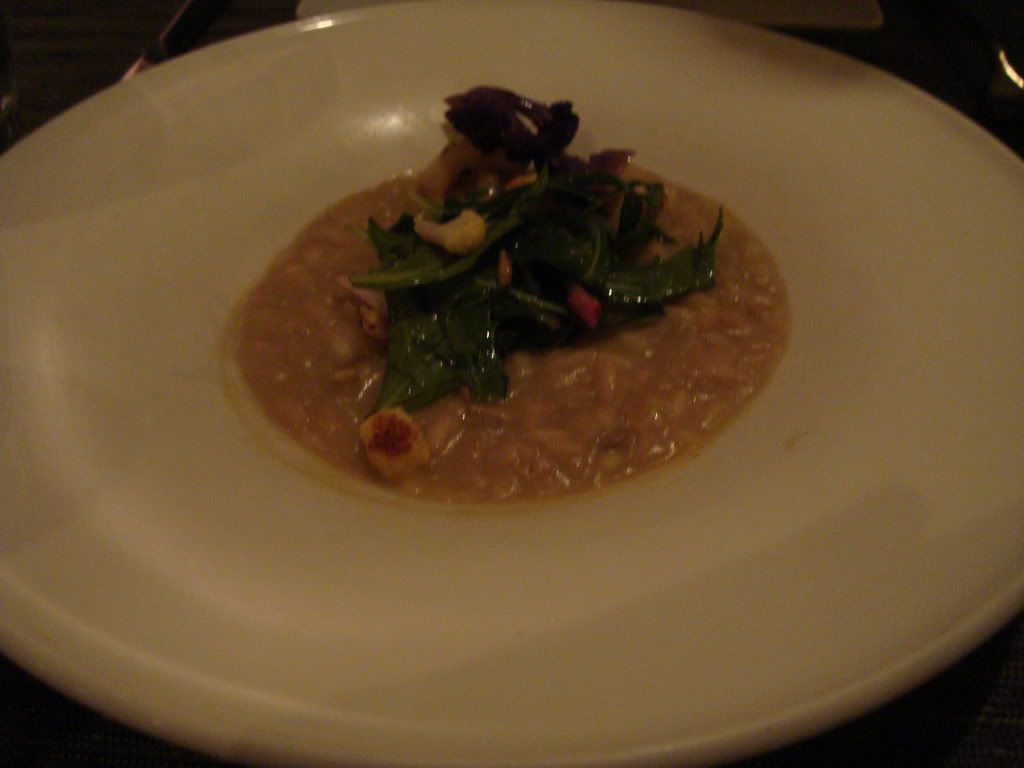 For dessert we had a Chocolate Pavé with crème fraîche ice cream, peanuts, and sea salt as well as a Meyer Lemon Tart with toasted meringue, orange tuille, and I think a few dots of some cherry reduction. I was a little baffled by the pavé. It tasted a lot like a reses peanut butter cup (so of course it was good) but I had a hard time placing it with the philosophy of the restaurant, which supposedly celebrates "purity of ingredients." A technique heavy dish does not do so. Replace the crème fraîche ice cream with vanilla and the entire dessert would be completely unremarkable. Matt liked the lemon tart (I didn't think it was lemony enough) but I thought it faced the same problem that the pave did. How are a meringue and a tart a celebration of the ingredients?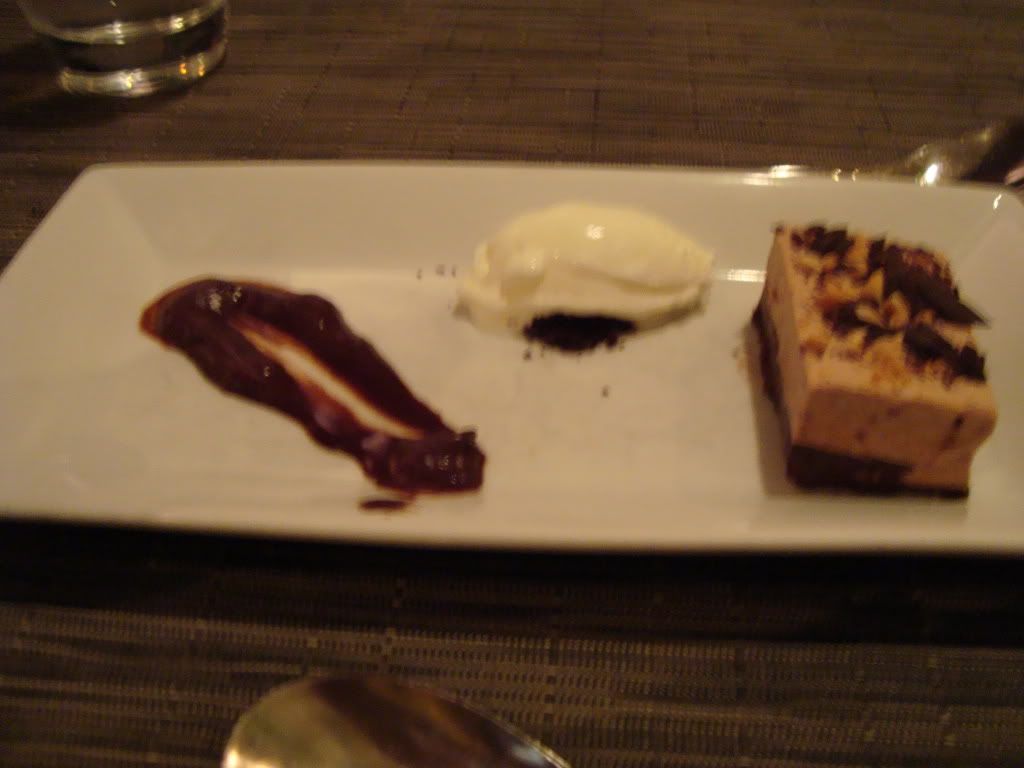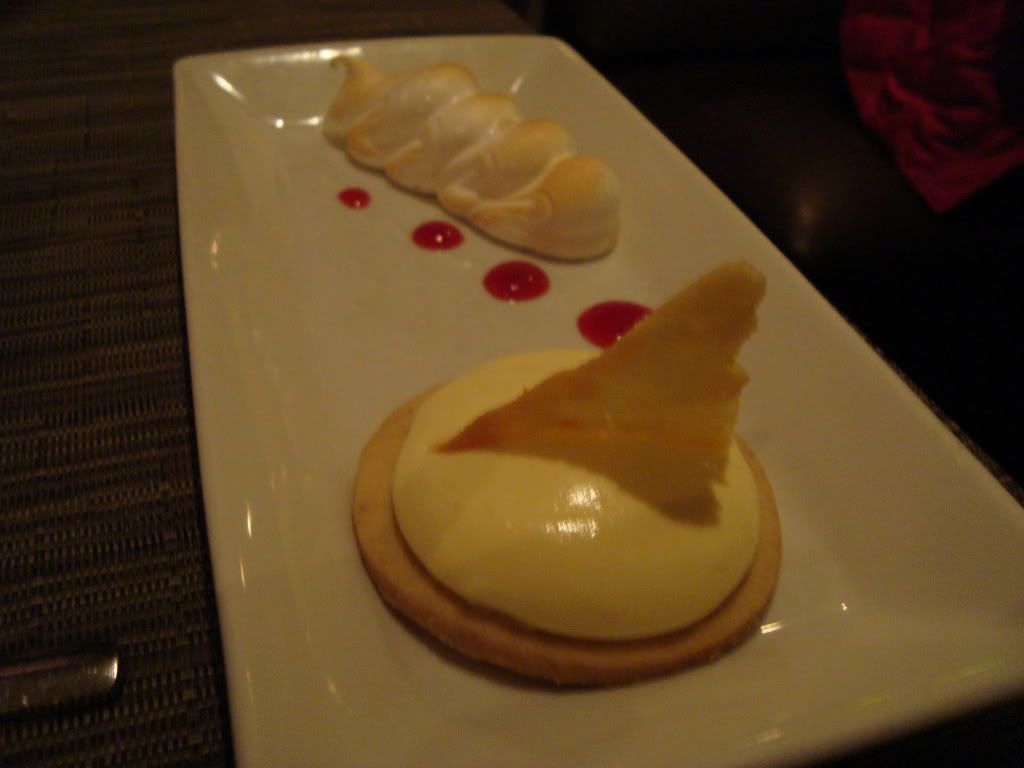 For a place that is supposedly produce-focused and charges high prices for small portions, I was expecting something a little less forgettable. The most recent news clippings posted on the website are from 2008 and the head chef apparently has some other projects going on, so I get the feeling that maybe GZ has fallen by the wayside. In GZ's defense, we were eating off a pre fixe menu in a period where I'm sure they get a lot of unpleasant customers looking for a deal. Plus it's the middle of February in Chicago, a hard time for any restaurant to source ingredients. I might be inclined to visit again (in the summer), to see if I had a better experience.